KLuWolF's Den
The FANeXpo Experience
We always thought it would be cool to be an exhibitor showcasing our wares in Western Canada's FANeXpo in Vancouver. That was the dream which began on a visit to Vancouver in 2012 for our very first FANeXpo, ie. Canada's version of ComicCON. It should come as no surprise that as a bookstore and pop culture venue, we decided to actually give it a try for 2013.
My first impression was about how robotic everyone seemed to be. That turned out to be nothing more than a show of experience from those who have done this before. Our choice of truck and trailer might have been a bit hasty given the dock configuration. Vendors were shipping boxes by courier ahead of time or loading the family car to the max and making a several trips. There is already a laundry list of things to do differently next year.
Aside from not spelling our name right on the map, they made BC Hydro look like a beggar on the street what with the outrageous rates. I could easily power my home for 2 months on what they wanted for a two day event, even if I had ordered it ahead. Which brought into play the BattBAG™ Green Power Solution by yours truly. We ran an electronic sign (the one usually in the Country Bug window display), a debit machine and a wireless access point, through a 300 watt inverter for approx. 16 hours on one of the larger battery units, without recharging it. I'm sure it would have gone on for another 14 hours after that based on what it took to recharge it after.
Its too late to think about major profits from the expo, so we just take the experience as a test run that can flourish with all the new directions to take. Only to wonder if it should have lead us to a solid gain on the first try or what the statistic is for a success on that in this sort of event.
The connections made were priceless. Our old friend, Aaron Douglas, from Battlestar Galactica didn't seem to be around, however the 13th Colony fan club was. We caught Amanda Tapping gasping with surprise after she saw our genuine TV on-set artifact from the Foothold episode of the SG1 series. She even knew my brother from OnSet Glass and promised retaliation for not asking her for an autograpgh earlier, one she would have gladly given up for 'his brother'!.
It was crazy cool to have some uber fans dressed up and staying in character when the other geeks were happy to have their pictures taken with them. The end came all too quickly for the amount of excitment involved. Aside from the photos here, the Wall is where we have posted more pictures.
Tomb Raider from the Beginning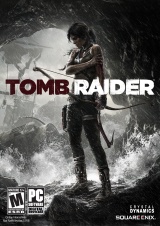 Title: Tomb Raider
Genre: Action
Release Date: 5 March 2013
Published by: Square Enix
Developed by: Crystal Dynamics, Eidos Studios (Montreal)

Blood and Gore, INtense Violence, Strong Language
Lara Croft has been a favorite of our family since it first came out and the movies are pretty awesome too. My son was innocently calling Ms. Croft the 'booby girl' by the time he was old enough to talk and he came up with that all on his own. He mastered the game on the xBox by the time he was 5 years old, not much of a surprise there.
Most of the games we played were based on 3rd person shooter Xbox style and all were great plays right to the end. One that came out last year was more like a Mario world style that didn't seem to quite make the grade with fans of the game. There were some great adventures in Cronicles, Legend, Anniversary and Underworld, the later which was my personal favorite of the Eidos versions.
So now after many years of rumours, Square Enix has taken over with an amazing result. The IGN average community rating is 9.2
WiFi & Bluetooth
No it's not an RF signal that would make the citizens for safe technology run for their lives. Just a couple of birds that have added a bit of life to our store.
First there was a Canary named WiFi who's short life was nothing more than an inexperience in the care and feeding of. Not sure he took very well to the amount of daily traffic that came through each day. Without too much detail, we learned proper care and adopted a Budgie we named Climbing-Bluetooth. He came with a broken wing that was from his birth avairy. He's probably never flown much and makes it cool when he vibrates pretending to be a hummingbird.